Back
Blood Pressure Check
A blood pressure check is a simple way of checking if your blood pressure is too high or too low. The reading will show the amount of work that your heart is doing to pump blood around the body.
It is estimated that 1 in 3 people in Ireland suffers from high blood pressure (hypertension), so this is a common problem. If left untreated, it can lead to heart problems, strokes, and damage to other vital organs. High blood pressure usually has no symptoms so it is important to check regularly, and it is crucial to be aware of the risks and how you can reduce them.
Low blood pressure (hypotension) isn't usually as serious, although it can cause dizziness and fainting in some people.
That is where we can help, visit your local StayWell Pharmacy* and have your blood pressure checked.
*Selected StayWell Pharmacies only.
Blood Pressure Facts + Figures
It is essential to know your blood pressure numbers. Below we explain the different levels and what they mean to your health. You particularly need to monitor your blood pressure if you are in the high-risk group.
Hypertension High Risk Group:
You may be at risk if:
You are over the age of 40

You are overweight (a BMI of 25 or higher)

You have a family history of high blood pressure

You have a diet high in salt and/or low in fresh fruit and vegetables

You have a high alcohol intake

You are a smoker

You do not take 30 minutes of physical activity daily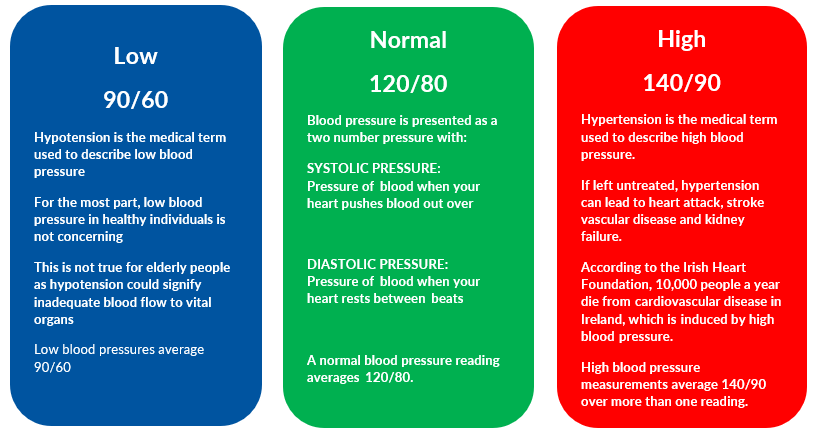 How the Service Works?
Book appointment Online or Instore
Book your appointment online or instore with your local CarePlus Pharmacy*. If booking online, you will be asked to answer some routine health questions beforehand.
On the day of appointment
A member of our trained pharmacy team will take your blood pressure in the privacy of a consultation room. Your result will be explained to you, and you will be offered any advice and support needed to manage your blood pressure. If appropriate, we may refer you to your doctor.
For more information on Blood Pressure see our FAQs or alternatively the following websites for helpful information on high blood pressure, symptoms, causes, diagnosis, treatment, complications, and prevention.