StayWell Pharmacy Flu Vaccine Service
The seasonal flu vaccine is considered the best protection against the flu, its complications and spread of the flu. Annual vaccination is recommended because the virus is constantly changing and is the best way to lower your chances of getting the flu.
Our StayWell Pharmacy Seasonal Flu Vaccination Service is a simple and convenient way to help protect against the flu.
Book NOW at your StayWell Pharmacy to get your flu vaccine.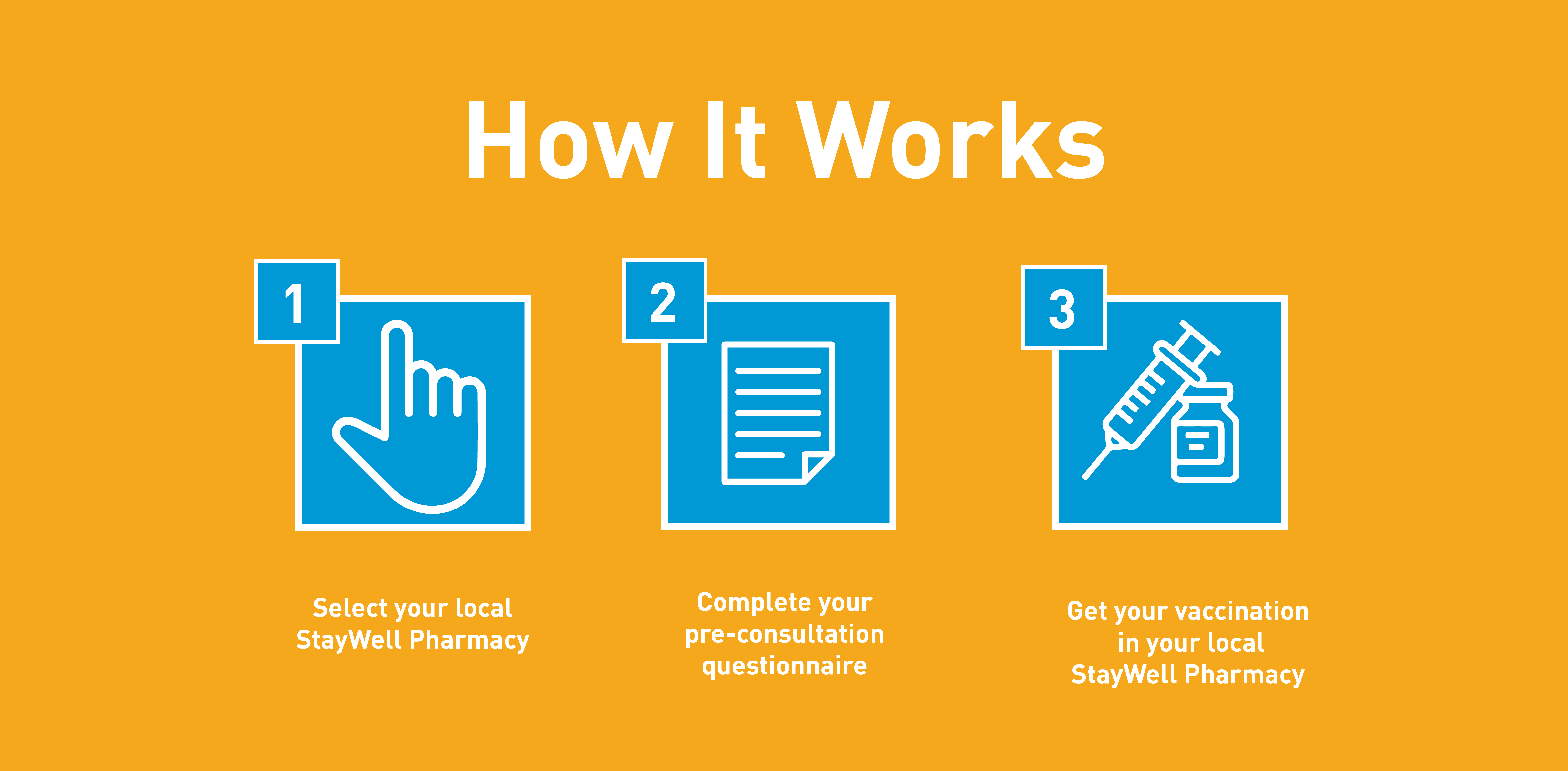 Step 1 Register for your flu vaccine with your local StayWell Pharmacy. You can do this in store or online here for selected StayWell Pharmacies* by clicking on the "Book Now" button in the bottom right-hand corner. You will be asked to confirm your contact details along with your PPSN, answer some eligibility criteria questions and confirm your consent for the vaccine.
Step 2 A member of the StayWell Pharmacy team will contact you when an appointment becomes available if you are registering for waitlist. This may be via SMS message, email, or a phone call.
Step 3 Your local StayWell Pharmacy will send a reminder the day before your appointment, and you will be asked to confirm that you do not have any symptoms of COVID-19.
*Registering your interest does not guarantee a Seasonal Flu Vaccination Service appointment or vaccination. Appointment availability subject to stock and pharmacist vaccinator availability and eligibility criteria. Selected StayWell Pharmacies only.
For 2022/2023 flu season, there will be two different vaccines used in the HSE Seasonal Influenza Vaccination Programme:
Quadrivalent Influenza Vaccine (split virion, inactivated)
Fluenz Tetra Nasal Spray Suspension Influenza Vaccine (live attenuated, nasal)
Who Should Get the Seasonal Flu Vaccine?
Flu is more severe in people aged 65 years and over, pregnant women, and anyone with a long-term medical condition. The HSE is urging people in at-risk groups and children 2-17 years to get the flu vaccine.
It is especially important that the following at risk groups get vaccinated:
Anybody aged 65 years and over

Pregnant women

Children aged 2 to 17 years inclusive

Anybody aged 6 months or older with a long-term health condition like:

chronic heart disease, including acute coronary syndrome

chronic liver disease

chronic renal failure

chronic respiratory disease, including chronic obstructive pulmonary disease (COPD), cystic fibrosis, moderate or severe asthma or bronchopulmonary dysplasia

chronic neurological disease including multiple sclerosis, hereditary and degenerative disorders of the central nervous system

diabetes mellitus

haemoglobinopathies

morbid obesity i.e., body mass index (BMI) over 40

immunosuppression due to disease or treatment (including treatment for cancer)

are a child with a moderate to severe neurodevelopmental disorder such as cerebral palsy

Anybody with Down syndrome

Residents of nursing homes and other long-stay institutions

Healthcare workers

Carers and household contacts of people at increased risk of flu because of medical conditions

Anybody with regular close contact with poultry, waterfowl, or pigs
Who Should NOT Get the Flu Vaccine Injection?
Anybody with a history of a severe allergic reaction (anaphylaxis) to a previous dose of flu vaccine or with an allergy to any of the vaccine ingredients

Anybody taking medicines called combination checkpoint inhibitors (e.g., ipilimumab plus nivolumab) should not receive the flu vaccine because of a possible risk of immune reactions

Anybody who has severe neutropoenia (low levels of a type of white blood cell)

Anybody with an egg or chicken protein allergy must see their GP to be vaccinated or may need to be referred to a hospital specialist

Anybody who is unwell with a high temperature of more than 38°C, vaccination will have to be postponed
Who Should NOT Get the Nasal Spray Flu Vaccine?
Any child who has had a severe allergic reaction to a previous dose of the flu vaccine or any of its ingredients

Any child who has severe asthma or if they have been wheezy or needed their inhaler more than usual in the 3 days before the vaccination

Any child taking medicines called salicylates, which include aspirin

Any child who has taken influenza antiviral medication within the previous 48 hours

Any child who has a severely weakened immune system because of certain medical conditions or treatments

Any child living with someone who has a severely weakened immune system - for example, a person who must live in insolation in the months following a bone marrow transplant

Any child who has a condition which means they have a leak of the CSF (the fluid that surrounds the brain and spinal cord)

Any child with severe neutropoenia (low levels of a type of white blood cell)

Any child on combination checkpoint inhibitors (e.g., ipilimumab plus nivolumab) which are used to treat cancer

Anybody who is pregnant
If your child cannot have the nasal spray flu vaccine, you should speak to your GP or your StayWell Pharmacist about getting the vaccine as an injection.
If your child is 6 months to 2 years of age and is in a high-risk group for flu, they'll be offered a flu vaccine injection. This is because the nasal spray is not suitable for children under the age of 2.
When Should You Delay Getting the Flu Vaccine?
There are very few reasons why getting the flu vaccine should be delayed. You may have to delay getting the flu vaccine if you are unwell – with a high temperature of more than 38°C – until you are better.
How Much Does this Service Cost?
The price of the flu vaccination varies based on the vaccine you will receive, your age, your medical history. Please talk to your StayWell Pharmacy team as you or your child may be eligible for a free vaccine, others may be subject to charge.
Getting the Flu Vaccine and your Appointment
COVID-19 Health Screen Prior to Appointment:
Please do not attend your appointment if:

You have any current symptoms of COVID-19 or

Have been told you are a close contact of someone with COVID-19 or

Have been told you should isolate
Appointment Times:
You should allow up to 20 minutes for your vaccination appointment. After getting the vaccine, you will be advised to be observed for 15 minutes.

You will be sent a reminder prior to your appointment

If you need to cancel or reschedule your appointment, please do via the email link r contact your local StayWell Pharmacy as soon as you can

Adults should arrive for their vaccination unaccompanied where possible. For Children they will need to be accompanied by their parent or legal guardian or an adult who is eligible to give legal consent Who can give consent for vaccination of a young person aged under 16 years?
On the Day of your Vaccine Appointment:
Please wear a loose-fitting top so that your upper arm is easily accessible (if applicable)

Wear a face covering
Following your Flu Vaccination:
We ensure that you/the patient is feeling well and is advised to wait for 15 minutes in the vicinity of the pharmacy in case of any major adverse reactions, as we are trained to deal with such situations.

All patients will receive a Vaccine Record Card upon leaving. If details are provided, we will notify your GP within 7 days, that you/the patient has received the influenza vaccine. The HSE will also be notified within 7 days.
Side Effects
The most common side effects are mild and short in duration. You/patient may develop soreness, redness, or swelling at the injection site. If necessary, these symptoms can be treated with an ice pack or simple analgesics, e.g., paracetamol or ibuprofen.

Mild symptoms such as headache, fever, aches, tiredness, mild sweating, and shivering may occur, generally within 6 to 12 hours of vaccination and lasting 48 hours. People confuse these symptoms with the flu, but it is the body responding to the vaccine. These symptoms may be treated with paracetamol or ibuprofen.
For more information see below about flu, visit our FAQ page or download our StayWell Pharmacy flu vaccine leaflets
Where can I get more information?
Patient Information Leaflets